With the high country snow melts, Yosemite's waterfalls and rivers spring to life invoking scenes like no other.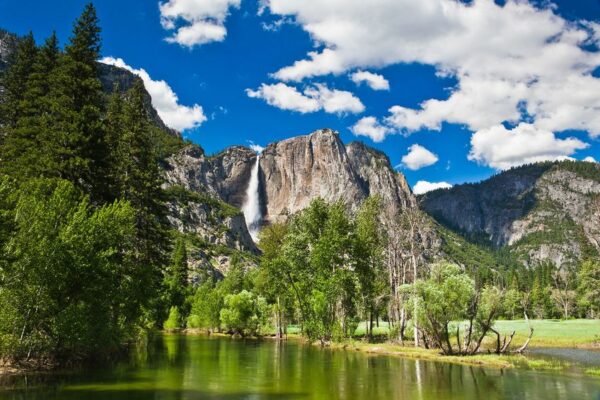 Yosemite's waterfalls and rivers spring to life!
With the high country snow melts, Yosemite's waterfalls and rivers spring to life, invoking scenes like perhaps no other in the world. In years of maximum water flow, Yosemite's Upper and Lower Falls make a thundering sound that can be heard throughout the Valley. Bridalveil Fall is spectacular in the spring with sprays that reach half of its 620-foot height. Some waterfalls such as Ribbon Falls only appear during the spring if it's wet enough – at 1,162 feet, it is one of the tallest waterfalls in the world.
The Spring season also provides a wealth of alpine wildflowers and lush meadows. Wildflowers bloom everywhere in Yosemite in the spring and you can see scores of varieties. Yosemite is one of the few places you can see the bright red stalks of the Snow Plant, a striking sight even if it's technically a fungus and not a flower. You may also see poppies, goldfields, meadowfoam, baby blue-eyes, and redbud trees.
This workshop has been scheduled to coincide with peak waterfall season in the spring of the year. You'll have the opportunity to photograph rainbows, waterfalls, wildflowers, and wide-open landscapes at some of Yosemite's most iconic locations, some of which include the big granite domes of El Capitan, Sentinel Dome, and Half-Dome, and the cascading waters of Yosemite Falls, Bridal Veil Falls, and Vernal Falls. We'll also shoot many other locations on the valley floor, making sure that you're in the right place at the right time during the best lighting conditions.
Some of the Shooting Location Highlights:
Glacier Point's commanding view of Yosemite Valley, Half Dome, Yosemite Falls, Vernal Fall, and Nevada Fall
Valley Floor photographing El Capitan, Yosemite Falls, the Three Brothers, the Merced River, and Half Dome
TUITION & PAYMENT TERMS
What's Included In Your Tuition:
4 nights lodging
Field meals and snacks
All ground transportation during the workshop
Workshop course materials
In-the-field photographic training
Post-production classes
Online prep & orientation classes prior to the workshop
Online follow-up classes after the workshop
What's Not Included In Your Tuition:
Transportation to/from the Basecamp
Lodging beyond the nights included in the workshop
Meals
The California Center for Digital Arts is an Authorized Permittee of the National Park Service.