Digital Photography: The Basics
Learn what all of those knobs and dials mean and how to take control of your camera!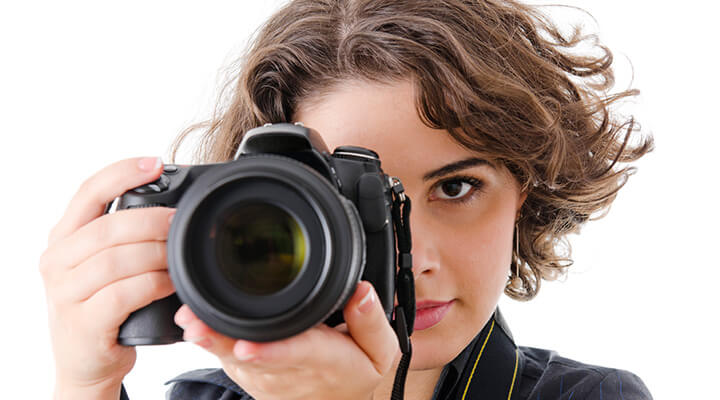 In Digital Photography for Beginners 1: The Basics, learn how to take control of your camera!
Have a camera but you're not sure how to use it? Learned on a film camera and now you want to get into digital photography? Been working with an old point and shoot and now you want to step up to a DSLR? This class is perfect for you! Learn what all of those knobs and dials mean, how to control your shots, and the principles of photography – start your camera adventure with us! No matter what you want to photograph – family, events, travel, product, weddings, etc. – knowing the basics is a must. Learn hands-on with our instructors, with YOUR camera!
COURSE DESCRIPTION
In this course, you will learn the foundational principles of photography. Instructors will guide you through the essentials of focus, f-stops, shutter speeds, sensor speed (ISO), and their relationships, placing artistic creativity in your hands. Students explore depth of field and its effect on the visual message, how shutter speed can aid in image interpretation, how to choose the right camera menus, and the best file choice for any given situation. No more frustration as you flip switches back and forth or scroll wheels until something looks right on the LCD; take control and know exactly what to do for any photo situation! Digital Photography for Beginners 1: The Basics will help you understand the reasoning behind photographic choices, and leave you with the tools to create stunning imagery without the fuss. Learning what your camera can do will help you be more confident when taking photos, and you'll have fun doing it!
TOPICS COVERED
You'll learn what all those knobs and dials on your camera are for, go through the basics of camera settings, and what settings to use in various lighting conditions. We'll explain the difference between simple "point and shoot" cameras and DSLRs (full-size cameras with changeable lenses – not limited to professionals!), and what kind to buy if you don't already have one. No matter what camera you have, you'll leave this crash course with a better knowledge of how your camera works. We'll get you on the path to taking great photos!
MATERIALS NEEDED
Camera
Notepad / laptop
Snack/drink
QUALIFICATIONS
INSTRUCTOR
David LaNeve, CPP
*Interested in learning more about photography? This class comes bundled with EIGHT other courses to take you through all kinds of photography subjects! Check out our Photography Program for Beginners for more information.