Intro to Outdoor Flash Lighting
Take the fear out of lighting your photographs in this introduction to outdoor flash photography.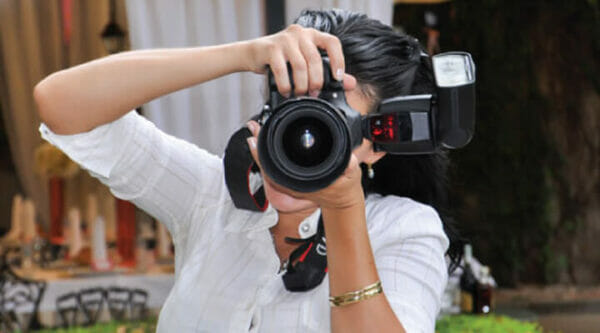 This intro to outdoor flash lighting will give you the skills to manage your flash for outdoor photography.
Take the fear out of lighting your photographs in this 2-hour introduction to flash photography. In this class, you'll learn hands-on how to better use your accessory flash as we explore the Downtown Santa Ana Artists Village.
Professional photographers often shoot outdoors with their portable flash, on and off camera. This is because it provides a powerful way to gently fill shadows and creatively blend ambient and portable fill light. This flash photography class teaches how to choose and use each workflow for your outdoor images and provides you with a new and easy to use tool to improve your outdoor photography even in the harsh light of high noon. Students also explore how to use this as a dominant light source in outdoor environments and further explore creative applications that blend ambient and portable flash light.
COURSE DESCRIPTION
If you've wondered what that silver plate on the top of your camera does, and you're tired of your photos being too dark, or your outdoor portraits fall flat, or, if you're a natural light photographer ready to take your photography to the next level with lighting, this is your course! Our instructor will simplify accessory flash use outdoors by demonstrating the techniques to get you stellar portraits and simplify your landscape photographs.
Students quickly develop the skills to manage and choose portable flash settings for outdoor applications and how to use this tool as a fill light source. They explore best practices for selecting the correct ISO settings, exposure settings, and requirements appropriate to any given outdoor ambient light situation.
Students leave with knowledge and confidence in the portable lighting workflow.
TOPICS COVERED
Portable flash as the fill light source in outdoor situations
Power choices for outdoor lighting situations
Positioning on and off camera
Bouncing, diffusing, and reflecting
Which cables to use and manual power adjustment
Mastering the power settings
MATERIALS NEEDED
DSLR camera with manual exposure modes and your favorite lens
Accessory flash, battery, modifier (diffuser or reflector)
Extra battery and memory card
Camera manual
Sun protection, water bottle, and your walking shoes
QUALIFICATIONS
Beginning to Intermediate
INSTRUCTOR
David Laneve, CPP